AYURVEDA GIFT CERTIFICATES
Gift your loved ones the gift of health this Winter & New Year!
We all need a little pampering sometimes!
The new year break is a perfect time for treating ourselves and our loved ones to time for health. Time to recalibrate, learn about ourselves, how to eat and live right to maintain balance or simply just kick start the year with a rejuvenating Ayurvedic massage therapy. The point is to start with correct habits.
Gift certificates for Ayurvedic massage therapies, health consultations (skype or in person), natural anti-aging creams and combined packages are available for purchase from us at the centre, over the phone or email.
You can choose from existing services or create your own combination. Let us know and we will make arrangements according to your needs. Customised e-gift certificates with a special message can be sent to you via email.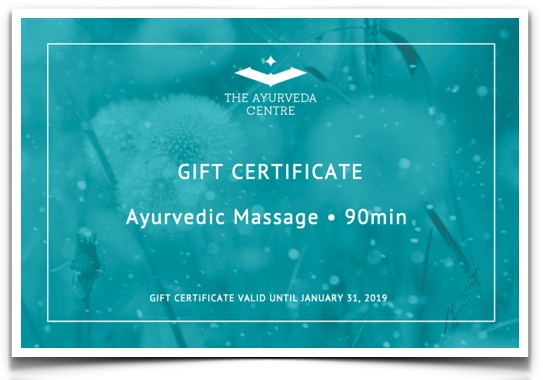 You can also choose to subtly share this article with your friends and relatives, in case a gift certificate is what you need for yourself this winter 🙂
Happy festive season!
Elena