Purify the Body, Nurture the Mind
Ayurveda massage therapies help detoxify and pacify imbalances of the body and mind.
Ayurveda massage therapies are inseparable from the Ayurveda Consultation. Each therapy is personalised according to your unique constitution, and the nature, stage and root cause of your imbalance.
Following your Ayurveda consultation, the practitioner may recommend Ayurveda Massage or special therapies with medicated oils, Ayurveda pastes and poultices. Treatments may include rejuvenating abhyanga massage, pinda sweda detox therapy, healing herbal paste application and yoga or meditation exercises.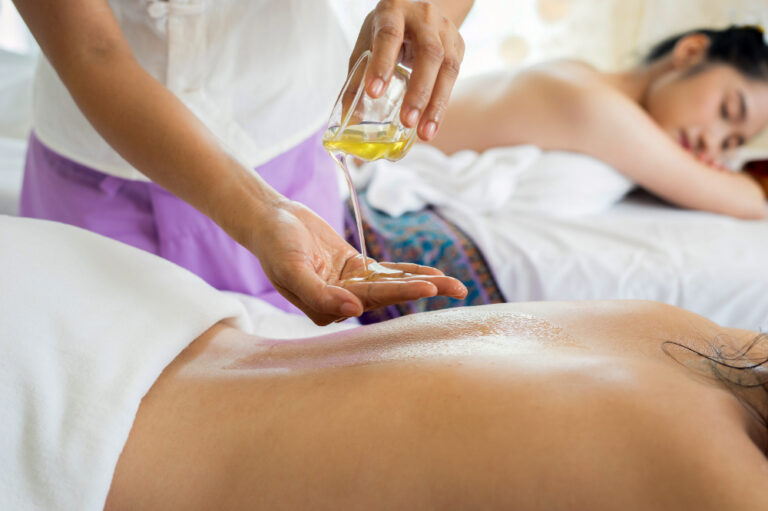 Balance Body & Mind
Abhyanga uses warm herbal oil and specific techniques on the body and head. This ancient massage technique lubricates and cleanses the body. Prevents ageing, promotes good sleep, enhances blood circulation, improves complexion and relaxes the mind.
Release Deep Tension
The 107 marmas are vital points where muscle, veins, arteries, nerves, lymph, tendons, bones and joints meet. Each point has its own consciousness, which co-ordinate with the mind and body. As with Acupuncture, these points correspond to internal organs and systems of the body which react to manual stimulation.
Sweda means to "sweat". Pinda sweda are medicinal poultice made of cooked rice and/or herb used over skin and joints to induce sweat. They break down toxins and fatty deposits and are recommended for weight loss, back and shoulder pain, body stiffness and detoxification.
Energy Healing
The Chakras are energy centres that run along the spine. There are 7 chakras, each relating to a different part of our life and being. The aim of the therapy is to release any chakra blockages and promote a free flow of energy to restore balance and a sense of wellbeing.
Anti-Inflammation Herbal Paste
Lepana is the external application of Ayurvedic medicated herbal paste on any part of the body where there is pain associated with inflammatory. Lepana is also used to pacify menopausal symptoms, balance hormones, prevent headaches and hair loss. The ingredients of the paste vary according to the nature of the imbalance.
Weight Loss Support
After a short oil massage, herbal powders are used to massage the body against the direction of the hair follicles with increased pressure. The treatment is good for cellulite, sciatica, circulation problems and indigestion.
The massage activates the nerves and increases blood flow to the impaired parts of the body.
Alleviate Physical & Emotional Pain
Vasti aim at relaxing vata disorders. Urovasti for asthma, respiratory problems, emotional pain and Kativasti for back pain and spinal disorders. Warm medicated oil is poured over the problematic area and retained inside a herbal paste boundary for 45 minutes. The healing properties of the oil enriches the blood, promotes strong muscle and connective tissues and emotional release.
Healing from Within
Herbal remedies may be prescribed on the basis of their attributes or properties. Herbs give subtle nutrition and stimulation to the deeper tissues and organs; foods deal with the grosser nutrition.
Body, Mind & Soul Alignment
Yoga as therapy utilises gentle poses, slow movements, breathing techniques, and meditation to benefit and improve overall health and more specific conditions.
Quieten the Mind
Train your mind to become still through breath observation, mantra chanting and other meditation techniques to regain power over your thoughts and actions.
Are you ready to make the change?
Already from the first meeting with Elena I felt more at peace than I had been in a long time. Learned how to listen to my body and made healthy nutritional changes without any effort! As for her massages, I felt as nourished as a baby at the care of my mother and grandmother again. This is a life-changing experience... Thank you Elena...
Some places need to be kept secret...But it will not honor the work and the passion of the owner. Thank you Elena, you took the time to listen me, explained me the mind of the Ayurveda Centre and your massage was a total treatment of my body and my soul.
What a superb experience! Elena provides unforgettable healing and relaxing massages, as well as excellent nutrition advice depending on your Ayurvedic profile. To start the year, before rushing back in our busy daily lives, I definitely recommend this place. Thank you for your dedication, and professionalism!
Elena initiated me to Ayurveda, she adapted her advices and coaching to my lifestyle and schedule offering a tailored support. She added simple changes to my daily routine to ensure reachable and sustainable lifestyle modification that I could hold onto the long run. Today I am able to find back energy and I have experienced tremendous improvement on my health.
The service is with quality, Elena knows her job perfectly, I came out of the massage tired but it is due to the release of toxins among others. The next day I go back to my yoga practice and my teacher also noticed a change in my practice that became more fluid, I breathed better. In short everyone goes for the reasons that are specific to him but I guarantee you that you will not come out disappointed of the treatment! thanks again Elena.
I had a really great experience at the ayurveda center. Elena is a very understanding person.The massage was also very nice and helpful! I felt the positive impact of the treatment very quickly. Definitely recommended! Thank you Elena.
Today I made a new experience at the Ayurvedic Centre of Athens Glyfada. Elena offers a smooth and gentle accompaniment. The treatment was just extraordinary. Thank you Elena for this beautiful meeting.
Thank you Elena for this consultation that went way beyond what I expected. This was a real holistic approach and gave me a lot of information and insights about my own body and mind. I feel that the session gave me new keys to understand and care for my body better.
Thank you for all the times you told me to respect my self and my needs. Thank you for not telling me what to do and who to be, it is an honor meeting you and have this beautiful relationship. I have found how to listen my body and found after all these years in this life what I like and what I don't. I am my own doctor now and the my life story has shown me that I can achieve the best for my self. I give a prayer to all beings to be them selves and know them selves !