A Health & Fitness Holiday In Nature: Yoga, Ayurveda And Climbing Retreat In Magical Surroundings
Language spoken : French & English
WHAT TO EXPECT?
A unique 6-day all inclusive health and fitness holiday in some of the most extraordinary Greek landscapes:
daily climbing sessions in a different sector of the greek island of Kalymnos

daily yoga and meditation 90 minutes sessions

Ayurvedic massage

healthy Mediterranean meals
THE VILLA
A beautiful villa in Kalymnos, Greece with 3 bedrooms, a 5m heated swimming pool and amazing sea view! It has modern boho style and it's ideal for people who want to relax. It has fully equipped kitchen, 3 bathrooms, living room with wood stove and a cozy loft.
All bedrooms are equipped with COCO-MAT sleep products, handcrafted from natural materials.
The breathtaking view from the private terrace to the Aegean sea and the bay of Arginonta, accompanied by the gentle breeze of the sea, will indulge you in precious moments of relaxation.
RETREAT PROGRAMME
DAY 0 : ARRIVAL
Arrive on Kalymnos, Greece (see «How to get to Kalymnos» in Useful info) to Pothia port  and take a taxi to go to Arginonta, the village where is the villa.
The healthy evening meal will be prepared in the villa by Kiko our chef.
DAY 1
7:00 – Healthy Breakfast

8:00 ~ 12:30 – Climbing session

14:00 – Ayurvedic or Thai massage for one of you

17:30 ~ 19:00 – Yoga and meditation session

20:00 –  Evening meal at the villa prepared by Kiko
DAY 2
8:30 ~ 10:00 – Yoga and meditation session

10:00 – Healthy Breakfast


11:30 – Ayurvedic or Thai massage for one of you

14:30 ~ 19:00 – Climbing session

20:00 –  Evening meal in a taverna
DAY 3: BOAT TRIP AND DEEP WATER SOLO
We will board at 9:30 in Pothia for a sea trip. In the vicinity of the island's fish farms, dolphins are regularly present, jump into the water to try to observe these playful mammals. After that we will go to Vathy and climb over the sea, it's Deep Water Solo… unforgettable! We will finish the trip on Pserimos, a small island between Kos and Kalymnos.
For finishing the day, Kiko will prepare a succulent dinner.
DAY 4
8:30 ~ 10:00 – Yoga and meditation session

10:00 – Healthy Breakfast


11:30 – Ayurveda massage

14:30 ~ 19:00 – Climbing session

20:00 –  Evening meal at the villa prepared by Kiko
DAY 5
8:30 ~ 10:00 – Yoga and meditation session

10:00 – Healthy Breakfast


11:00 – Ayurveda massage


13:30 – Climbing on Telendos, the iconic island in front of Kalymnos.

We will eat in a taverna on Telendos before coming back to Kalymnos
DAY 6
7:00 – Healthy Breakfast


8:00 ~ 12:30 – Climbing session

14:00 – Ayurveda massage


17:30 ~ 19:00 – Yoga and meditation session

20:00 –  Evening meal at the villa prepared by Kiko
DAY 7: DEPARTURE
It's the end of your retreat, you take your breakfast and you may leave whenever you wish. Transfers are organised by your own means.
TEAM
FRED – Rock climbing teacher, meditative climber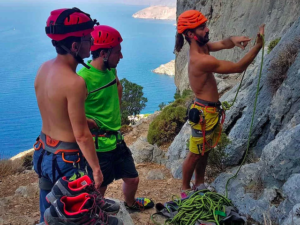 After 15 years dedicated to the research and development of laser systems, I decided to continue my journey with the desire to transmit the fullness of the great spaces and the vertical life. I like sharing the culture and practice of climbing in the outdoors. Serenity, kindness and attentiveness are the qualities I hope to portray with the people I support around the cliffs.
My wanderings have brought me to Kalymnos and it's charm has kept me here. This fascinating island seduced me in many ways: the mildness of its climate, the quietude of its landscapes and of course the richness of its cliffs. I love sharing the magic of this place, it transforms all who come to experience it. Whether you have just a few hours or a few weeks you can enjoy the rock climbing on Kalymnos!
Climb in Kalymnos: more than a myth
There is climbing and there is Kalymnos.
I will accompany you to discover a variety of exceptional cliffs, in a magical surrounding that smells of thyme (and sometimes a bit of goat); you will return forever seduced by the sirens of the island if you abandon the caution of Ulysses.
Like Ariadne, I will guide and supervise you in the maze of more than 4000 routes on the island to help you discover the best ones, according to your level, the best exposure (wind, sun, temperature), the length of the approach walk, the frequentation according to the seasons etc.
​​We will climb above the sea, becoming for a while philosophical climbers, on the very suggestive patronymic route: Socratics swimming lessons. We also will travel to Telendos which will give our session a taste of adventure.
More about Fred here
ELENA – Natural Health
Nutrition, herbal medicine & therapeutic massage and conscious practices to balance the body and connect to the heart.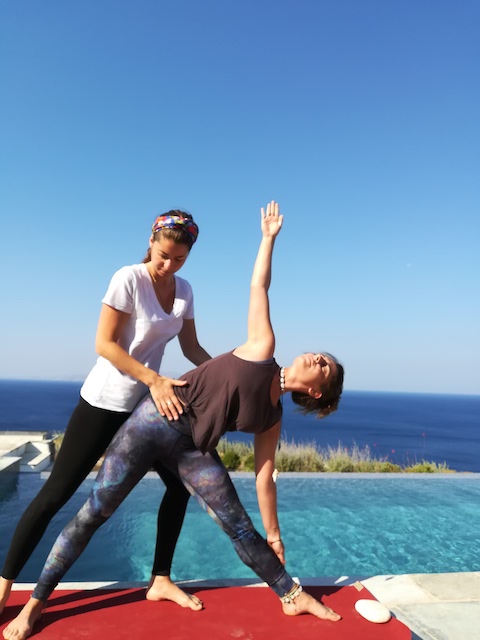 My interest in natural health practices began in 2009 whilst living in Asia. I was suffering from health issues and in 2015, I decided to leave my Singapore-based corporate job to study yoga and Ayurvedic medicine full time.
The following years I got certified as an Ayurveda Practitioner and Ayurveda Therapist by the Ayurveda Institute in London, studied Traditional Thai Yoga Massage, Sanskrit Mantra Sound Therapy, Budhist Meditation, Hatha Yoga and Laughter Yoga with renowned teachers.

After seeing tremendous personal health improvements, I made it a life priority to share my practice with those who seek more peace in their mind and body.

In my free times I love to cook healthy recipes, dance and enjoy outdoor excursions with friends and family.
Holistic Natural Health : Balancing Body & Connecting to the Heart
In this retreat we will optimise your over health to make the most of your climbing experience.
From adequate nutrition, to developing our focus and attention and deep body recovery. We will enjoy a special daily cooling and detoxifying ayurvedic drink and Ayurveda inspired meals prepared by Kiko our Chef.
In the morning session using yoga, energy point stimulation, meditation and mantra practices we will work on centering our mind, releasing mental toxins and physical tensions. We practice listening to our needs to invite clarity into our life. In the massage therapy we will use warm ayurvedic medicated oil, marma and chakra therapy over the body and head to help your body recover from the daily effort, support natural detoxification and to promote deep relaxation.
Treatments and practices are gentle and non-invasive, respecting the body's boundaries and individual needs and capability.
KIKO – Private Chef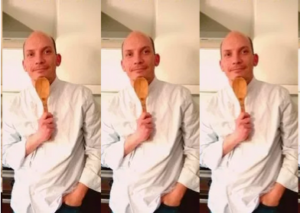 During 10 years I have worked as a marine biologist. I was always curious and interested in everything related with food, ingredients and food production systems.
In 2010 I have decided follow my instinct and start working in the catering industry. To complement my knowledge, I have graduated in Culinary Art at Escola de Hotelaria e Turismo do Estoril.
In the dinners I organize I try to give a gastronomic experience in which the guests feel that there a reason to eat in that place it particular. And with It comes a world of culture, history, technic and care.
One of the plates I find more representative would be the tomato salad I prepare. It´s made with different varieties of tomatoes so that the guests understand that a tomato is not only a tomato. And that depending on the varieties it gets a splash of vinegar, or not.
Main interests: Food, food, food, photography and tourism
More about Kiko
​
12th to 17th of June (arrival on the 11th from 15:00 and departure on the 18th from 12:00)

19th to 24th of June (arrival on the 18th from 15:00 and departure on the 25th from 12:00)

26th of June to 1st of July (arrival on the 25th from 15:00 and departure on the 2nd from 12:00)

3rd to 8th of July (arrival on the 2nd from 15:00 and departure on the 9th from 12:00)
Elena will give you a 90min Ayurvedic Massage Therapy during your stay. An optional Nutrition & lifestyle consultation can be booked before your trip (please let us know via the booking form). More info here
Please send an email indicating your climbing level* to elena@theayurvedacentre.com to register your interest. To confirm your attendance you will be required to deposit 500 €. This amount is non refundable. If you have any problem you will have a voucher for any other retreats during the year.
Accommodation
7 nights with single bed in shared room for two and one bathroom per room

Private pool on the terrace

Daily cleaning of the house, clean towels everyday and beach towels
Meal
7 breakfasts

Daily coffee/tea & fresh seasonal local fruits & snacks available at all times

5 dinners in the villa cooked by our Chef
Wellness
6 yoga sessions

Yoga mat: for COVID health measures we recommend you bring your on mat. Mats will be available at local store and we will have a few safety mats.

1 Ayurvedic or Thai massage
Boat Trip
1 day on boat, swimming with dolphins, visit of Pserimos (an island next to Kalymnos)
Climbing
5 climbing sessions and 1 Deep Water Solo session

Insurance for the climbing activity, Fred is fully insured in professional liability (Contract Signed By MMA)

Transportation on the cliffs from the villa

The equipment: harness*, helmet*, gears, ropes, belay glasses. We don't provide climbing shoes but tell us if you haven't, we will find a solution.
*It's better to use yours if you have
What is not included in the price?
Transportation
Flight to arrive and to leave Kalymnos

Taxi to arrive and to leave Arginonta where is the villa

Transportation during free time

Private travel insurance
Wellness
Optional: 1-2-1 nutrition & lifestyle online consultation (90 minutes) with Elena* before your trip to help you make the best out of your holiday
Meal
Climbing
Climbing shoes but tell us if you haven't, we will find a solution.
We look forward to living amazing healthy experiences together in Greece !
Fred, Kiko and Elena