Dear friends, we invite you to join a Health Renewal Ayurveda and Yoga Retreat this spring in beautiful Peloponnesos, Greece !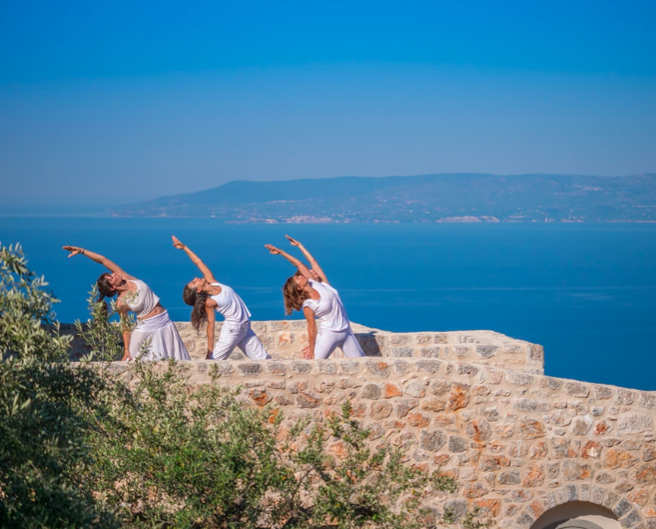 DATES
26 April – 2 May 2020 (6 day programme)
28 April – 2 May 2020 (4 day programme)
What to expect
A week of deep healing and nurturing yourselves back to perfect energy and balance through daily practice of yoga for all levels and Ayurvedic healing treatments based on your needs and body type.
With delicious local fresh ayurvedic meals for the most nurturing experience of deep rest and total HEALTH RENEWAL.
Retreat Program Description
Our system needs deep re-newal from time to time, only we hardly give ourselves the time. Our potential for energy, creativity, and well-being is limitless. Yet, our daily stress and self-imposed limitations are constricting this natural flow of energy.
This retreat will give you the rare opportunity to enjoy the benefits of Yoga, and Ayurveda Healing Treatments by expert teachers and professionals, who are there to offer you guidance, support, and the luxury of being pampered and nurtured all the way to optimum health and energetic re-newal.
Join Vivi and Elena in this healing journey that will restore your system's natural balance and renew your spirit's love for life.
Daily Activities & Offerings
Two Sessions of Yoga/Meditation Daily – All levels

Morning Ayurvedic Drink and two delicious, nurturing meals with fresh produce, and ALIVE energy, prepared and served with the Ayurvedic principles for ideal nourishment and digestion.
Ayurvedic Consultations
Ayurvedic Massage / Treatments
Nutrition & Lifestyle Workshops
Plenty of free time to enjoy walks in nature, sleep, the nearby beaches, talks and friendly company etc…
You may join us for the full 6 day programme or a shorter 4 day option.