Would you like to learn how to maintain your balance just by cooking the right foods? We are very please to announce that we are now offering fun and interactive healthy cooking classes for private individuals and groups.
AYURVEDA
Ayurveda is natural medical system born in India more than 5000 years ago. Ayurveda is a sanskrit word that can be translated as = knowledge of life. The knowledge or wisdom of Ayurveda teaches us that we should use the time we are given on this planet to experience life with awakened consciousness.
What this means is that we should live according to the heart rather than the mind. How can we achieve this? Well first we must consider our state of health and work hard to keep it in balance. Ayurveda puts nutrition and lifestyle as the most two important causes of health or disease.
Did you know that there are good and bad food combinations?
FOOD AS MEDECINE
Throughout the ages food has always been known as a main component for a healthy body and mind.
It is no surprise, since all that we are – our body and mind – is a direct result of the transformation of food through our digestion.
Understanding the nature of food, it's qualities and how it impacts our own constitution is essential to maintain a healthy balance.
Food can also be used as a medicine, this is what Ayurveda teaches us and what we like to share with you!
Unfortunately over the years this wisdom of health through cooking has been forgotten or neglected for the benefit of quicker options. These options pushed by large corporation in the food industry for the sake of higher profit, did by no means contain the nutrients needs to maintain a healthy body and mind.
Did you know that each meal should include the 6 tastes?
Thanks to the science of Ayurveda, the wisdom fo health through food is today available to us. This is what we have the pleasure to share with you through fun and interactive cooking classes.
ABOUT THE COOKING CLASS
Healthy cooking classes are adapted to each guest's needs and their unique constitution. A typical class will include:
An introduction to Ayurveda and it's key principles.
We will then get our hands dirty and cook together a selection of breakfast, lunch, snacks and/or dinner dishes whilst learning Ayurvedic dietary rules and recommended habits.
As we cook, guests will get to understand how they can save time and money with efficient planning.
Finally we will taste the fruit of our hard work and discuss some easy home made natural remedies to prevent and heal basic medical conditions.
A pre-questionaire will be sent to all guests to understand their personal needs and individual constitution.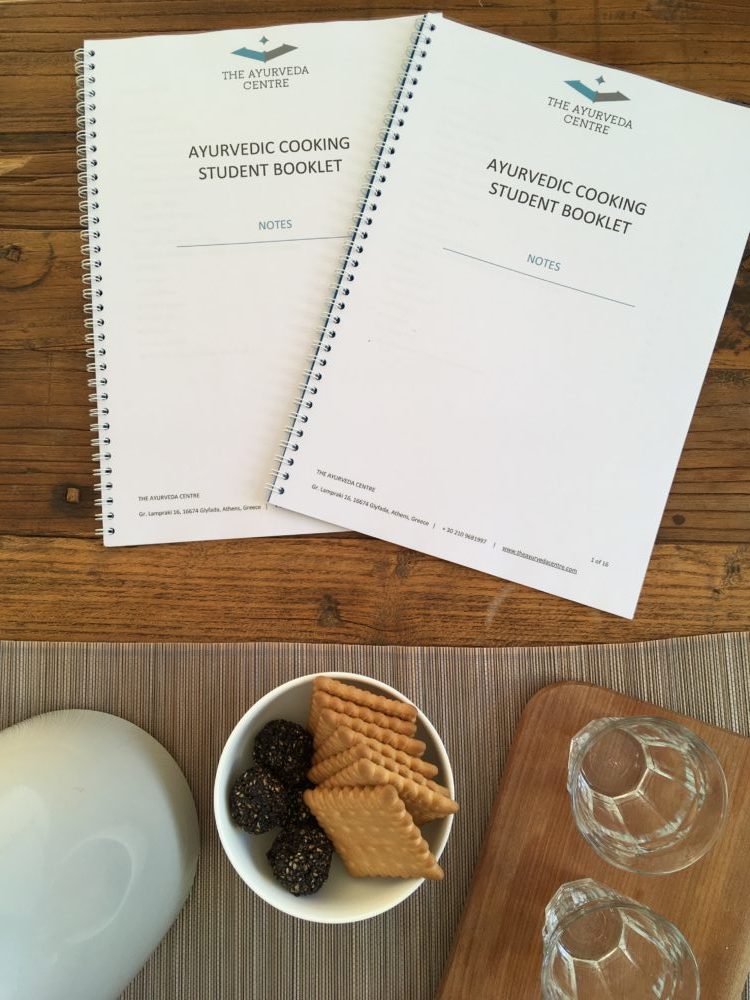 For more information, please contact us. We are available for private cooking class and group cooking classes at your chosen location. In the mean time you can read our latest healthy ayurvedic recipes or leave us your email address to receive recipes straight into your inbox.
Elena Beurdeley-Kuerten
Ayurvedic Consultant – DipALN, DipAMT (Ayurveda)
The Ayurveda Centre – Athens
www.theayurvedacentre.com