This Yoga and Ayurveda Workshop for stress relief is a journey to peace of mind. Exploring base principles of Yoga & Ayurveda, two ancient sister disciplines to let go of stress & tensions, quieten the mind and invigorate the body.
Is this Workshop for me ?
Do you wish to feel lighter in your body ?
Do you wish to feel more peace in your mind ?
Do you wish to release bodily tensions and mental stress ?
Then this workshop is for you ! You will learn and experience ancient Yoga and Ayurveda practices to reconnect with your body and feel more joy & love in your daily life.
Programme
10.00 |  Welcome tea with healthy Ayurvedic herbal infusion & snacks
10.15  |  Session 1  with Elena Beurdeley – Ayurveda Practitioner. (In Simple English)
> Learn ancient Ayurveda dietary advice to calm the nervous system, prevent body stiffness and inflammation.
> Discover your personal ayurveda constitution, the type of stress which may affect you and why.
> Learn marma/acupressure points to help reduce physical and mental tensions.
12.00 |  Session 2 with Salomi Servini – Certified Yoga Teacher. (In Greek)
> Practice transformational energetic and alignment yoga (incl. postures, breath work, meditation) to relieve back pain and tensions in neck and shoulder.
> Learn simple postures to strengthen bodily systems (heart and cardiovascular system, lungs, muscles and nervous system) and improve a. functions of the body as a whole b.oxygen delivery to tissues and c. digestion.
> Free up body and mind and enjoy a short stress relief massage !
Practical Details
Who is this yoga ayurveda workshop for? Everyone! Suitable to all levels. No previous experience of yoga or ayurveda required
Where? Thrakomakedones, Athens north suburbs. Address to be confirmed upon registration.
When? Sunday 10 April 2022. From 10AM – 1.30PM
Language ? Greek & English
Cost ? 32 Eur including:
* 1h30 – Ayurveda learning session (teachings & practice)
* 1h30 –  Yoga practice for peaceful body and mind (incl. mini relaxing massage)
* Healthy tea break with special Ayurvedic teas & snacks
Equipment & Clothing : Please bring your own yoga mat (blocks if you need them) and a pillow to sit on for the Ayurveda session/Meditation. Wear comfortable (and warm if needed) sports clothing. And bring good mood in your pocket 🙂
Hosts
Salomi Servini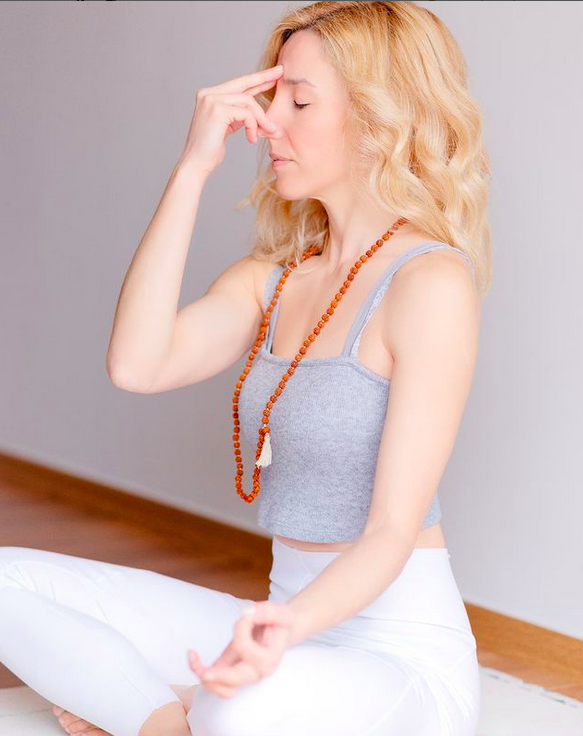 Salomi is a certified instructor in Hatha yoga and Krischnamacharya tradition (RYT 500hr Yoga Alliance International, India), as well as in Prana Vinyasa (RYS 260h Yoga Alliance, America), an energetic and holistic approach to yoga created by Shiva Rea. She has also attended numerous seminars, such as on Yin and Restorative yoga anatomy, kinesiology and philosophy.
Her classes are warm, supportive and empowering. She also provides students with clear instructions on alignment. She emphasizes in bandhas and breathing, while she integrates prana, the vital energy, through the consecutive and conscious movement, in order to help her students to awaken their inner power and release their physical, mental and emotional burdens.
She is also a certified Prenatal & Postnatal yoga instructor (RPYS 90h Yoga Aliance, America) as she loves to work with women during pregnancy and after giving birth. She inspires them to love and trust themselves, as well as to connect with their baby through breathing and conscious observation.
Fascinated by the holistic approach to human body care, she has been introduced to the therapeutic technique of Usui Reiki (1st and 2nd degree). Also, she has received certification in Thai massage, as touch is associated with energy therapy.
According to her belief, a yoga teacher never ceases to be educated so she keeps on practicing, studying and broadening her knowledge and skill. She loves to share her knowledge and passion for yoga with her students. Her desire is to support her students to their journey towards their own true self by listening to their inner voice and heart, and overall trusting themselves.
Elena Beurdeley
Certified Ayurveda Practitioner, Nutrition & Lifestyle Consultant, Ayurveda Massage Therapist (The Ayurveda Institute UK).
Elena's interest and practice of natural health practices began in 2009 whilst living in Asia. In 2015, she decided to leave her Singapore-based corporate job to study the ancient sciences of Yoga & Ayurvedic medicine full time.
After seeing tremendous personal health improvements, Elena made it a life priority to share her practice with those who seek more peace in their mind and body.
Nutrition, herbal medicine, therapeutic massage and consious body-mind practices are at the heart of Elena's practice. She offers private nutrition & lifesytle consultation, massage therapies, group workshops and retreats.
In her free times Elena loves to cook healthy recipes, enjoy greek seaside and mountains with friends and family, dance, chant in a sanskrit choir, practice meditation, attend dharma talks & meditation retreats.