Ayurvedic chutneys not only taste delicious and enhance ayurvedic meal flavours, but they also help stimulate your agni and facilitate digestion.
This coconut chutney recipe is by the talented Ayurvedic Chef (and fine poet) Dag Weinmann. Dag has just published an ayurvedic cookbook (in German language) with some of the most delicious & soul made ayurvedic recipe we have ever tasted. It also includes beautiful poems about nature and the ingredients he uses.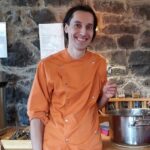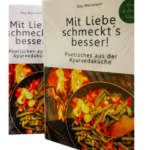 And now onto the chutney!
Ingredients
100 g grated coconut
3 tbsp fresh mint leaves
1 tsp brown mustard seeds
1 tsp salt
1 tsp cane sugar
1/2 tsp ginger powder
1 small chilli, chopped (pitta imbalance or predominant constitution reduce to 1/4)
Juice and zest of half an organic lemon (pitta imbalance or predominant constitution prefer 1/4 juice of lime)
200 ml coconut milk
3 tablespoons of yogurt (kapha conditions may reduce quantity of yoghurt or use lighter vegan alternative)
Lightly brown the grated coconut and mustard seeds in a pan until they become fragrant.
Mix well with all other ingredients (except the yoghurt).

 

Finally, once the mixture is a little cooler, stir in the yoghurt until you have reached a nice unctuous consistency.
This ayurvedic coconut chutney recipe will beautifully complement mung dal, chapatis or any vegetable dishes.
Enjoy your meal! And don't forget to say your before meal prayers before you start, to give thanks to the Mother Nature, your digestive power and the cook!