During a trip to Kerala last autumn, our host Dr.C.V.Priyatha Dev, shared with us this easy and healthy vegetable recipe. Lightly spiced with turmeric, this Ayurvedic vegetable recipe makes a perfect side dish for chicken, fish, dhal, pasta and rice.
This healthy vegetable recipe only takes a few minutes to prepare. It can be enjoyed by adults and children alike. It can be taken to office as part of a healthy lunch or enjoyed as one of many side dishes on a relaxed Sunday lunch!
Is this recipe suitable for my constitution ?
Depending on the season, your constitution and your current health condition, you can choose vegetables which will help maintain your body & mind in balance.
Need help understanding your unique body-mind constitution ? Take a Dosha Quiz here.
Need help understanding what food is right for you? Read about the 6 tastes of Ayurveda.
I recommend to use a maximum of 2 vegetable variety for optimal digestion. Fennel, leeks, brocoli, butternut or potatoes work beautifully in the winter. In the summer we like to use courgettes, peppers, string beans, green peas or occasionally aubergine (as they are quite heating in nature – so we should all be a little careful!).
Is turmeric good for me ?
This recipe uses a small amount of turmeric together with ghee, to promote digestion whilst avoiding too much heat and dryness being created in the body.
The ghee has cooling and oily properties that balances turmeric's hot and drying qualities. There are a lot of magazines and health shops promoting turmeric out there, but we must take into consideration our unique constitution, as well as the nature of our disorder to administer such a spice in the right quantity and prepare it in the right way.
If you have doubts on how to use turmeric, please read this comprehensive article, by our teachers at The Ayurvedic Clinic in London, to understand the truth behind turmeric and how to use it.
Now let's get on to the recipe!
HEALTHY VEGETABLE RECIPE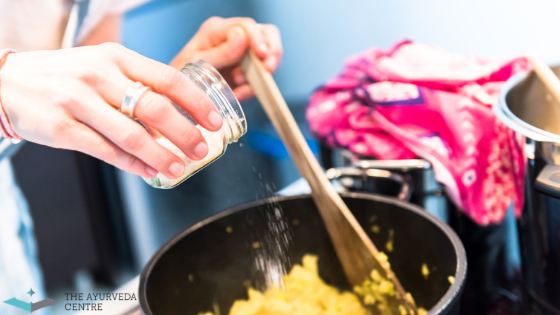 ingredients
1 cup seasonal vegetables
1/4 tsp turmeric powder
4 tbsp ghee, olive oil or coconut oil (according to constitution)
Salt and pepper to taste
Water
METHOD
Rince and peel the vegetables. Chop them up in small cubes or stripes.
Warm 2 tbsp of ghee in a deep non-stick pot.
Add the vegetables and stir for 2-3 minutes on medium flame.
Add the turmeric powder. Stir for a minute.
Add just enough water to cover the vegetables. Bring to a boil.
Cover the pot and simmer until water has evaporated and vegetables are cooked but still firm.
Add the remaining ghee and cook for another 5-7 minutes until the vegetables are nicely covered in ghee and are light gold.
Add salt and pepper to taste. Decorate with a few parsley or coriander leaves.
Serve warm and enjoy this healthy vegetable recipe with white fish, chicken or dhal, or even as a topping for pasta.
TIP : If using more than one vegetable, consider each vegetable cooking time. Then add them into the pot starting with the vegetable having the longer cooking time. This will avoid some vegetables being undercooked and others being overcooked. This cooking method will also help with overall dish digestibility. Your stomach is just another cooking pot and your digestive fire just another stove, so treat it with care and a little bit of logic.
Bon Appétit!
Click here for more ayurvedic recipes.
Elena Beurdeley-Kuerten
Ayurvedic Consultant – DipALN, DipAMT (Ayurveda)
The Ayurveda Centre – Athens
www.theayurvedacentre.com