This cosy millet breakfast porridge is sweet and nourishing. A perfect start for a cool autumn or winter day.
This millet breakfast porridge recipe is by the talented Ayurvedic Chef (and fine poet) Dag Weinmann. Dag has just published an ayurvedic cookbook (in German language) with some of the most delicious & soul made ayurvedic recipe we have ever tasted. It also includes beautiful poems about nature and the ingredients he uses.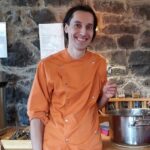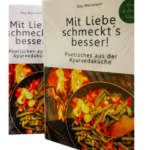 Ingredients
100 g millet – you can also opt for quinoa or another grain alternative
1 tbsp ghee or butter
1 tbsp poppy seeds
1/4 tsp curcuma
1/2 tsp cinnamon
400ml almond milk
1 tip of a knife vanilla
3 tbsp raw sugar or jaggery – little less for kapha constitutions or replace with a tsp of honey before serving
Method
Melt the ghee or butter in a pot
Roast the poppy seeds for about 1 min
Add the cinnamon, curcuma, millet for another 2 min
Mix in the milk, vanilla and sugar and cook well for about 15 min
Leave to rest a few minutes
Sprinkle with a little cinnamon and serve warm
Optional – You can decorate with your favourite toppings: a few pre-soaked almonds, hazelnuts, baked apples, banana or pears, coconut shavings and dates or raisins.
Click here for a delicious ayurvedic rice porridge recipe alternative
Bon appétit!
Elena Beurdeley
Natural Health Practitioner | Educator