Zucchini are not only in season, but they are cooling vegetables, light and low calories, making them easy to digest and ideal for those who wish to shed those extra kilos in the summer.
This zucchini sage soup recipe is by the talented Ayurvedic Chef (and fine poet) Dag Weinmann. Dag has just published an ayurvedic cookbook (in German language) with some of the most delicious & soul made ayurvedic recipe we have ever tasted. It also includes beautiful poems about nature and the ingredients he uses.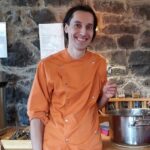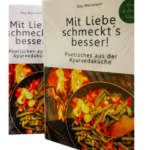 And now onto the soup!
Dag reminds us that this recipe and in particular the zucchini – spicy sage combination will "bring us back our bikini figure as it happens to reduces cellulite from our tissues!"
Ingredients
500g fresh & local zucchini, roughly sliced ​​
2 tbsp olive oil –> greek is the best 🙂
1 onion, chopped
3 cloves of garlic, chopped
1 knife tip of chilli –> easy on the chili for pitta imbalance or pitta predominent constitutions
1,3 litres of vegetable broth
1 handful of fresh sage
1 pot of organic crème fraîche (approx. 150g)
2 tsp starch powder (rice or potato)
Juice of ½ fresh lemon
Fresh pepper and salt
Heat olive oil in a pot
Sauté the onion, garlic, pinch of chilli and zucchini all together for a few minutes.
Add the vegetable stock and cook at low/medium temperature for about 15 minutes
Blend the sage, crème fraîche, starch powder, lemon juice together then add the zucchini and continue to blend until you have reached a thick soup consistency.
Season with salt and pepper.
Vegan Alternative: Replace the crème fraîche with soaked cashews (soak cashew nuts in water for 15 minutes) and then purée them in the blender.
This ayurvedic zucchini – sage soup recipe can be eaten warm or at room temperature and is a beautiful starter or makes a perfect light dinner.
Enjoy your meal! And don't forget to say your before meal prayers before you start, to give thanks to the Mother Nature, your digestive power and the cook!