Perfect for a healthy tea break, you can served these home made organic zea cookies with a cup of masala chai in the colder months or to accompany a scoop of vegan banana ice cream in the hot summer months.
It's all about making consicous ingredient choices according to our external and internal environments.
These were our choices:
Zea also known as Triticum dicoccum is a type of grain that was part of Ancient Greeks' daily diet. It is high in protein, fibers and mineral. Low in gluten, easier to digest than regular flour but still holds together when baked.
So, we like to use it for pancakes, pasta and general baking.
The recipe is using olive oil instead of butter and jaggery or raw can sugar instead of white sugar.
One can replace olive oil with butter or ghee (in the winter season or for vata constitutions) or coconut oil (for pitta constitutions or in the summer months). Sugar can be substituted with chopped dates or maple syrup – I would not recommend honey which does not do well in high temperatures.
A pinch of cinnamon, clove and ginger help avoiding sugar spike and improve digestibilty.  They will also warm you up and boost immunity in the winter. In the hot summer months, cooling vanilla or lavendar is a good alternative.
Now onto the zea cookies recipe ….
INGREDIENTS
Organic Zea Flour – 150 g
Raw Cane Sugar – 100 g
Organic Olive Oil – 100 g
Organic Egg – 1
Spices according to season and consitution – a pinch each
Salt – a pinch
Fillings (optional)- raw choc chips, roasted almond & hazelnuts, dried figs, raisins, orange zest etc…
Love! Prema – universal love 🙂
METHOD
Relax and get ready to enjoy some healthy cooking for you, your friends and your family!
Preheat your oven 180 degres
Mix egg with sugar until you have a smooth paste
Add olive oil and zea flour – through a sieve
Add spices – according to season and constitution – and salt
Mix well
Add a little more love
On a baking tray previously greased with oil (or on a baking sheet) place small amounts of filling of your choice. With enough space in between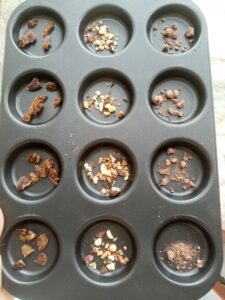 Then pour over a spoon or so of the zea cookies mixture
Bake for about 5-7 minutes. When the sides are golden, the cookies are ready!
Leave to cool and enjoy in the most suitable way for your constitution and the season!
Bon appétit. Which really means eat with appetite and in good company and for sure no toxins will be formed 🙂